Director Robert Wise died last night. For those of you who might not be familiar with him, he directed such films as The Day the Earth Stood Still, West Side Story, The Sound of Music, Star Trek: The Motion Picture, and more. He also edited Citizen Kane. He was a great talent, and I had the good fortune to meet him on three different occasions since I moved out here to Los Angeles. The first time was at a reception for the Flanders International Film Festival in 1998. Then, a few years later, I talked with him and late composer Jerry Goldsmith at the Hollywood Bowl.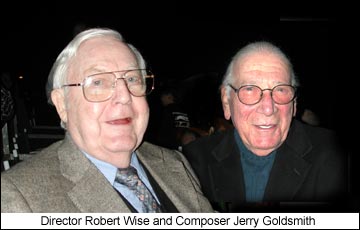 Then in 2002, he had a signing at the Virgin Megastore in Hollywood to commemorate the release of Star Trek: The Motion Pictureon DVD. The line was so long, though, that they ended up limiting us to having him sign one item. Obviously, I knew which one was more important.
I might just have to go get that 2-disc SE of A Sound of Music when it comes out later this fall.